The Passion of Joan of Arc. This critically acclaimed 1928 silent film by Carl Dreyer with a new 2018 restoration is brought to life with a haunting new score, which re-imagines this classic with a modern urgency. Combining electronic music with string quartet, early music chant by four voice choir, composer George Sarah has crafted an unforgettable visual and auditory experience.
After being commissioned by Los Angeles Grand Performances in 2010 to compose and perform a live score for "The Passion of Joan of Arc," George Sarah is in the process of booking live performances of this film score throughout North America and Europe.  Ideal for Classic Film theaters and performing arts centers, this performance is also appropriate for outdoor community-sponsored performances. If you are interested in booking a performance please send a message through CONTACT page.
Tech and stage plot. 
Full stereo sound system for music performance with sound engineer and projector to be provided by the venue. 

3 Stage monitors total. 1 shared between 4 for singers. 1 shared between 4 strings and 1 Keyboardist/. 
9 musicians on stage seated. 
Musicians: 4 Vocalist, 4 String players (String Quartet), 1 Keyboardist/Conductor. 
9 chairs (no-armrest) 
9 music stands with stand lights 
4 vocal mics and mic stands for each singer 
4 mics and mic stands for strings 
2 D.I. Boxes or XLR cables for laptop. 
1 small table for interface and laptop. 
1 keyboard stand. 
1 keyboard with midi capability. 
The 4 singers will be on stage right and the string quartet and myself will be on stage left. 
For the film: 
Working projector to screen film. 
Artist shall retain 100% of merchandise CD sales.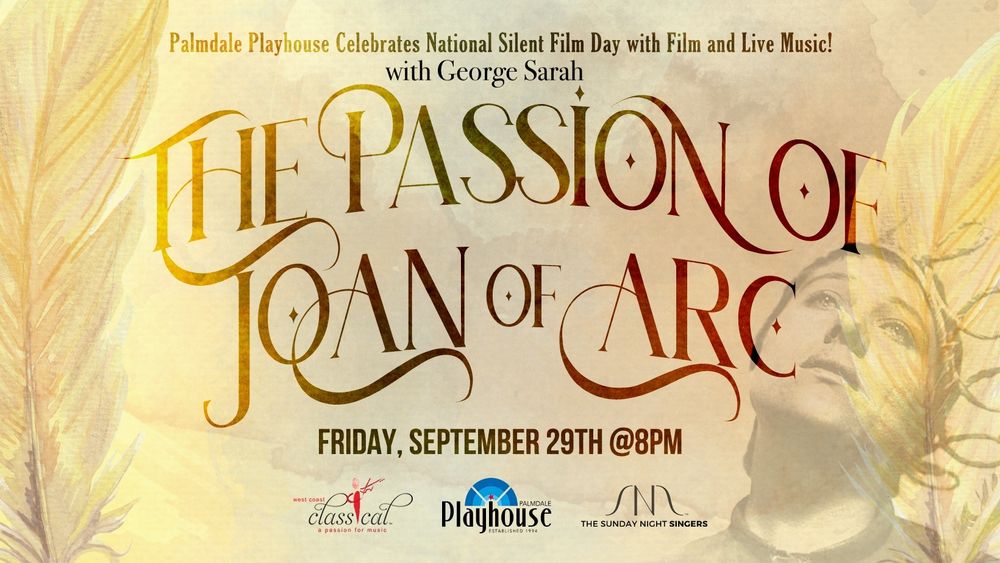 Saturday Sept 2, 2023 San Diego, CA "Use my promo code JOANOFARC for an extra 20% off your tickets before ticket prices go up on August 15th."
"Use my promo code JOANOFARC for an extra 20% off your tickets before ticket prices go up on August 15th."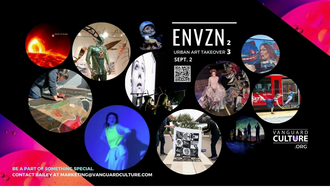 George Sarah w/String Quartet and Early Music Choir (Bloomington, Indiana)
Milwaukee Film Fest. Oriental Theatre Oct 18, 2019 (Standing Ovation) Click Image for Video
Paradise Theatre on Bloor. Toronto, Canada Feb 26, 2020
Oak Cliff Film Festival at the Texas Theatre. Dallas, Texas. June 15, 2018. PHOTOS BY DICKIE HILL
CLICK IMAGE to play VIDEO
Borrego Springs Film Festival Jan 15, 2020 (Standing Ovation)
West Hollywood Feb 8, 2020
FilmScene Iowa City, Iowa: Nov 15, 2019
Sacramento, CA. Crest Theatre Aug 6, 2016. Interview on Capital Public Radio, Submerge Magazine and Sacramento Bee.
The Sacred Music Fest at Dalton theatre in Kalamazoo, Michigan
Ruth B. Shannon Center for the Performing Arts Saturday April 13, 2019
City Of Laguna Niguel, CA . Sat April 6, 2019
Soka Performing Arts Center and Bowers Museum Oct 28th, and Oct 29th, 2016. OC Register Interview.
Left to Right: Grand Performances downtown Los Angeles. Program for the Sacred Music Fest at Dalton theatre in Kalamazoo, Michigan. A poster for concert at the Freed Theater at Christ Cathedral in Garden Grove, Ca